Welcome to The London Cat Clinic
Thank you for entrusting the care and attention of your cat to The London Cat Clinic. This document details our Practice Terms and Conditions. Some aspects of the Terms may not be relevant to you and we suggest that you ask for further explanation/clarification if required.
Consultations
Consultations are arranged by appointment only. Emergencies during normal opening hours will always be seen as soon as possible but clients are asked to telephone the practice for immediate advice and to tell us that you are on your way.
Due to the popularity of our clinic and limited consultation appointments if you are a new client one of our reception team will be in contact with you directly to confirm your appointment, chat through any additional details or special requests that you (or your cat) might have and take full pre-payment of the relevant consultation fee to secure the booking. This payment will be applied to your account for use against your consultation and any treatment and is completely refundable in event of cancellation up to one hour before the appointment time. We reserve the right to keep this payment in the event of a 'no show' or cancellation with less than one hour's notice (see below)
Consultation fees 2021
£65 for Six month/Annual Health Assessments (20 minutes)
£80 for non-routine consultation (25 minutes)
£80 for a reassessment consultation (25 minutes)
£140 for behavioural consultation (40 minutes)
£150 for a second opinion (50 minutes)
£225 for internal medicine referral consultation (60 minutes)
£300 for ophthalmology referral consultation (40 minutes)
If you cat is currently under treatment for the condition and you would like a second opinion, we do require the full history, blood test results, x-rays etc. before the appointment can be booked (excluding emergencies as determined by The London Cat Clinic).
Emergency Service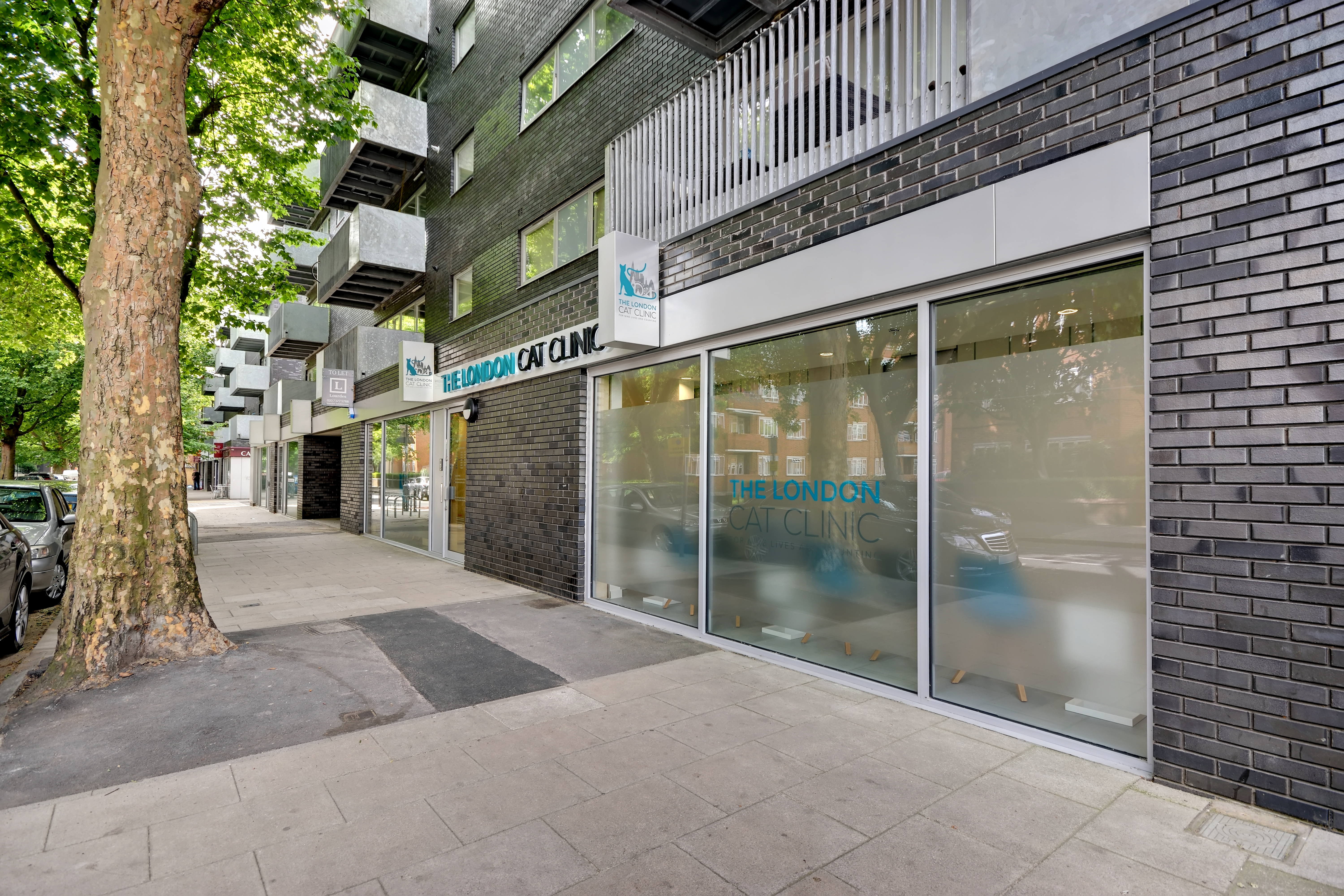 The London Cat Clinic provides all of our own emergency and out-of-hours care services. This means that all of your feline friend's veterinary treatment will be provided by the experienced, caring and highly qualified team members you know - 24 hours a day, 7 days a week.
This in-house emergency service will complement our extended weekday opening hours and new weekend appointments, so no matter what time of day or night your cat (or you) needs us, we are here. If you just need out-of-hours vet advice, we're always here so give us a call.
Emergency Consultation Fees:
Monday to Friday 8pm to 1030pm £120
Monday to Friday 1030pm to 830am £165
Saturday, Sunday and Bank Holidays: 9am to 4pm £120
Saturday, Sunday and Bank Holidays: 6/4pm to 1030pm £140
Saturday, Sunday and Bank Holidays 1030pm to 830am £195
For second opinions and referrals out of normal hours please call for pricing.
Emergency Treatment and Hospitalisation Policy for non-registered clients
If we have seen your cat in an emergency and/or have hospitalised them but we aren't your normal veterinary practice once the patient is stable, we would send them back to your usual veterinary practice. It isn't possible to transfer your cat's ongoing routine care to The London Cat Clinic due to our professional obligations to our colleagues.
Cancellation, 'No show' and Lateness Policy
Due to the popularity of our clinic and limited number of consultation appointments we require as much notice as possible to cancel or reschedule your cat's appointment. To deliver the high standard of care we strive for at The London Cat Clinic our appointments are between 25 and 50 minutes. If these appointments are booked and then not used without notification that time is effectively wasted when it could have been offered to another patient who needed it.
If you cancel within an hour of your appointment time or miss the appointment completely without any communication, we reserve the right to charge and be paid the applicable fee for the missed appointment which is £65 - £80 for a consultation and 100% of referral consultation fees.
Our appointments run one after another throughout the day. Arriving late for your cat's appointment has a knock-on effect on the rest of our patient's appointments by increasing their waiting times and potential stress.
If you arrive late, we will either shorten your appointment to the time that you have remaining in your appointed time or you will need to wait until we have space to complete your consultation. Your cat is always our priority and if you do have to wait, we will make sure he or she is made comfortable and attended to. If you are coming as an emergency, we will see you when you arrive.
We do understand that cats can disappear when a trip to the vet is planned and unforeseeable personal emergencies happen and take this into consideration with last minute cancellations and application of the missed appointment charge.
To avoid arriving late or missing your appointment and unnecessarily stressing your cat in the process see our tips on getting to the practice here Preparation is the key to keep everyone happy and relaxed!
Referral policy and fees
If your cat is referred to The London Cat Clinic it isn't possible to transfer your cat's ongoing non-referral related care to our clinic due to our professional obligations to the practices, we serve.
Our veterinarians recognise when a case or a treatment option is outside an area of competence and will refer it to a colleague, organisation or institution, whom we are satisfied is competent to carry out the investigations or treatment involved. It is also your right to ask for referral if you would like this for your pet.
A nominal referral arrangement fee of £20 is charged to cover the cost of our time in preparing and writing a bespoke referral letter, reception's time compiling all relevant history and leasing to arrange the appointment as much as necessary.
Professional Fees, Written Prescription Charges and Dispensing Fees
All fees, diets and drug charges are subject to VAT at the current rate. Fee levels are determined on the basis of the expertise required, the time spent on a case and the drugs, materials, consumables and diets used. You will receive a detailed invoice for every consultation, diagnostic, medical, surgical or other procedure, service or product. The London Cat Clinic has chosen to reduce margins on a wide range of products to prevent penalising patients on long term medication and focus on the value of our professional services. The clinic has a written prescription charge of £17.00 (incl. VAT) for a single item or £14.50 (incl. VAT)/item for multiple items. We have a standard three working day turnaround on all prescription requests, in the event you require a refill in less than this time, we reserve the right to charge a £25 (incl. VAT) emergency prescription fee. The London Cat Clinic has a standard dispensing fee of £11.95 (incl. VAT)/ item. Dispensing fees do vary according to the product being dispensed so please ask our staff at the time of your appointment if you would like to know more.
Policy on Prescriptions
You can obtain your cat's Prescription Only Medicines, Category V (POM-V) from our clinic. We are happy to provide a written prescription so you can obtain these medicines from another veterinary surgeon or a pharmacy on request. It is only possible for our veterinarians to prescribe these medicines for cats under our care. A prescription may not be appropriate if your cat is an in-patient or immediate treatment is necessary.
The cost of a prescription is £17.00* (incl. VAT) for a single item and £14.50*/item (incl. VAT) for multiple items.
The general policy of the practice is to reassess a patient requiring repeat prescriptions every three to six months, but this will vary with individual circumstances. Our standard consultation charge is £80.00* (incl. VAT).
You will be informed, on request, the price of any medication that may be dispensed for your animal, and further information on the prices of medicines is available from your veterinary surgeon.
Refunds cannot be issued for medications that have left the premises. For legal reasons, we cannot re-stock the medications however we can dispose of them at no cost.
*All prices are correct at 04/10/2021 but are subject to change
Policy on medications
All medications are stored at the practice in line with the legal requirements for that particular drug. Once a drug leaves our practice premises we can not enforce these storage conditions and can not accept medication back for refund. We will happily accept unused medication for disposal.
Estimates
We will provide you with an itemised estimate of the anticipated costs of treatment for your cat. We will always endeavour to contact you if this estimate is likely to be exceeded. However, there may be circumstances when immediate treatment is required. As such we cannot guarantee the estimate will be the total final cost.
Hospitalisation and COHATs
For non-elective procedures or hospitalisation, we will ask for an initial hospital deposit of £750 - £1000 depending on the complexity of the case. If the cost of the stay is less than this at discharge, we'll refund the difference within 24 hours. We'll keep you updated on your account balance throughout the time your cat stays with us. In order to keep your balance at a manageable level, we'll ask for payment when the balance exceeds £300. An exception to this may be direct insurance claims that have been pre-authorised and agreed by the practice. For COHAT appointments, we take a £500 down payment. If you cancel or reschedule the COHAT with less than 48 hours' notice, we reserve the right to retain up to 50% of the down payment.
Insurance Claims
The London Cat Clinic strongly recommends insurance for your kitten or cat. We will help you with every insurance claim, irrespective of the company, but it is your responsibility to understand the terms and conditions of your individual policy.
We try to complete and submit claims as soon as we receive them but in busy periods this can take up to 10 working days from the date that you submitted your completed claim form to us. If you would like us to expedite the claim an 'express submission' fee of £30 can be paid and the claim will be submitted within 24hrs.
It is your responsibility to complete all the details in the "policy holder sections". We will keep a copy for our records as a back-up. Should you wish to post it directly or require a copy of the submitted claim, please notify us in advance.
The London Cat Clinic may claim directly with your insurance company if the treatment has been pre-authorised by your insurance company and is specifically agreed with the practice management. This facility is only available for fees over £500 and does not extend to ongoing medication or treatment (unless preauthorization is obtained each time). The policy excess must be paid in full on submission of a fully completed claim form. We charge an administration fee of £15 for this service.
For clients on our Vesture insurance policy, a direct claims facility is available following payment of any excess fee due without payment of the administration fee.
Fees and Payment
Accounts are due for settlement at the end of the consultation, the discharge of your cat & upon collection of drugs, diets & shop sales. The London Cat Clinic does not offer an account facility of any kind. We accept cash, or credit card/debit card – MasterCard, Visa, Delta, Switch and American Express.
Inability to Pay
If you are unable to cover the costs of the estimate as specified please ask to discuss the matter with a member of staff, prior to treatment where the options available will be discussed and a formal contract entered into before treatment is given.
Payment Terms
If it becomes necessary for us to issue an invoice to you are terms and conditions are as follows:
Invoice 1: After seven days, a 5% billing charge is added. This becomes payable once the invoice is raised. If the invoice is paid within 7 days of the invoice being paid, we will remove the billing charge.
Invoices 2-4: You will be re-invoiced every two weeks and each time a cumulative 5% billing charge is added to the total. Payment is required in full including all billing charges.
Invoice 5: This is the final invoice. A further 37% is added to the total outstanding to cover the costs of our debt collectors in whose hands the matter is now placed.
These charges apply even if you have insurance and have not yet given us a signed claim form.
Ownership of records and documentation
Case records, radiographs (x-rays), ultrasound scans and other records are the property of, and will be retained by The London Cat Clinic. We are happy to provide copies of all records and images to our clients on request and receipt of the appropriate fee of £25. If you are transferring your cat's care to a new clinic, we will make sure copies of all your documentation and images are passed on at your request.
Client Communications Charge
We provide the highest level of care for our patients and their carers and regular high-level communication is an essential part of this. If we find ourselves spending an excessive amount of time on emails or telephone calls that are not directly related to the immediate care of a case and/or would be better served by a clinic visit or telemedicine consultation we reserve the right to charge a fee of £30 to cover our professional time.
Call Recording
All calls are recorded for training and monitoring purposes. Recordings will be stored electronically in an external secure environment and will automatically be deleted, in line with the Retention Policy at 6 months. If you would like a copy of our Call Recording Policy, please email the Data Protection Manager at hello@thelondoncatclinic.co.uk or click here
Data Protection
We are registered under the Data Protection Act 1998 to keep your personal information for accounting and record purposes. We will not divulge your details to other agencies except for debt collection purposes. We may use the data that we have on file to contact you with information beneficial to your cat's health, for reminders, drug recall information, other products which may be relevant and newsletters. Please read our Privacy Notice for further information.
If you do not wish to receive such information, please advise our Administration Department in writing.
Customer Feedback
The London Cat Clinic is here for you and your cat and we take your thoughts and comments seriously. If you have any concerns or suggestions, please let us know so we can discuss these so we can do something about them. If you feel that we have done a particularly good job, then please tell others and review us on Google or on our Facebook page
Complaints
We hope that you never have need to complain about the standards of service received from The London Cat Clinic. However, if you feel that there is something you are unhappy about and would like to make a formal complaint, please direct your comments in writing to the Clinical Director.
When we receive your letter, we will investigate the details of your case and respond accordingly to you. Although we always endeavour to respond to a complaint within 7 working days of receipt sometimes this is not possible. In such an instance a member of the team will contact you to update you on the progress of your complaint.
The Environment
The London Cat Clinic recognises the impact running a practice can have on the environment and is actively trying to reduce this through use of energy-efficient lighting and equipment, active recycling policies and using non-paper methods for communicating with our clients. If you would prefer to be contacted via text message and/or email, please lets us know when you register with us
Variation of terms of business
No addition or variation of these conditions will bind the practice unless it is specifically agreed in writing and signed by one of the practice partners. No agent or person employed by, or under contract with, the practice has the authority to alter or vary these terms and conditions in any way.
Veterinary Care
The London Cat Clinic will provide veterinary services in accordance with reasonable standards denoted in the RCVS guidelines for practice standards and the professional conduct of veterinary surgeons and veterinary nurses. Guidelines are available at www.rcvs.org.uk. Please note veterinary care will be withheld from clients who appear aggressive and abusive to staff members.
By presenting your kitten or cat for treatment, you are accepting these conditions.