Dear TLCC Family,
We hope that this email finds you, your family, and feline friends safe and well.
We are so grateful to you all for your patience and support during Lockdown. We know it has been a stressful experience for many of you and we are pleased we have been able to continue providing exceptional care for nine lives and counting during this period. Although Lockdown is beginning to ease, we do please ask that you continue to be vigilant, practice social distancing when visiting the clinic, limit the number of people attending an appointment or collecting medicine to just one person and wear face masks or coverings.
I am pleased to share some exciting developments with you as The London Cat Clinic starts a new chapter after three and a half years of caring for the cats of Bermondsey and beyond.

We know the busy lives that many of you lead and we want to make it easier for you to get an appointment with us, particularly as our client numbers continue to grow.
From 1st August, we increased our hours from 8.30am to 8.00pm Monday to Friday.
From 4th January 2021, we are pleased to announce that, in addition to maintaining those extended weekday hours we are increasing our Saturday hours from 9.00am to 6.00pm. We also have an additional experienced vet on Saturday mornings which has allowed us to increase the number of available appointments.
In addition, going forward, the clinic will be staffed on Sundays and Bank Holidays (except Christmas Day and Boxing Day) for routine and non-routine appointments between 9.00am and 4.00pm. These will attract a supplement charge of £20 and you should call the clinic as normal to book these appointments.

We are committed to providing consistent care when you need it most and have taken the exciting decision to invest in a dedicated team to provide 24-hour care at The London Cat Clinic
We are committed to providing consistent care when you need it most and have taken the exciting decision to invest in a dedicated team to provide 24-hour care at The London Cat Clinic.
From 4th of January, we will have a full overnight team to take care of our in-patients and overnight surgery recoveries on-site. Your feline friends will be cared for by your familiar team here at The London Cat Clinic. We are also changing our hours for emergency admissions. We will be open for registered clients only on weekdays from 8.00pm to 10.00pm, Saturdays from 6.00pm to 10.00pm, and Sundays 4.00pm to 10.00pm. In the event of an emergency during these hours our phones will be open for you to call the clinic.
For security reasons, we are not able to accept walk-in cases in any circumstances and you must please call the clinic first before bringing an emergency case to the practice.
After 10.00pm, all emergency care will continue to be provided by our friends at The London Animal Hospital and the phones will be diverted to them. Please do not attempt to visit the clinic in person - you will not be allowed in and we will not open the clinic for walk-ins, however serious the emergency.
Alongside this development, we will keep all patients who require overnight hospitalisation following a routine or non-routine surgery on-site at The London Cat Clinic, where they will be cared for by our dedicated team.

As part of our ambition to be a centre of clinical excellence, we are delighted to announce our exciting new Ophthalmology referral service headed by renowned veterinary ophthalmologist Dr Ursula Dietrich
Ursula has decades of high-profile international experience in the field and has recently stepped down as senior lecturer in veterinary ophthalmology at The Royal Veterinary College (RVC) to take up her new post.
The Ophthalmology service offers specialist diagnostic tests, medical and surgical treatments for a range of feline eye conditions including corneal and conjunctival diseases, corneal ulcerations and glaucoma.
We are genuinely excited about these developments at The London Cat Clinic and we look forward to continuing to be of service to you and your feline friends. We assure you of our on-going passion for feline medicine, for clinical excellence, and for building trusted, transparent and long-lasting relationships with our clients.
You will see some new faces at The London Cat Clinic as we welcome a new vet, Dr Patricia, new nurses Chantal, Iain and Antonella, and new front-of-house colleague, Victoria.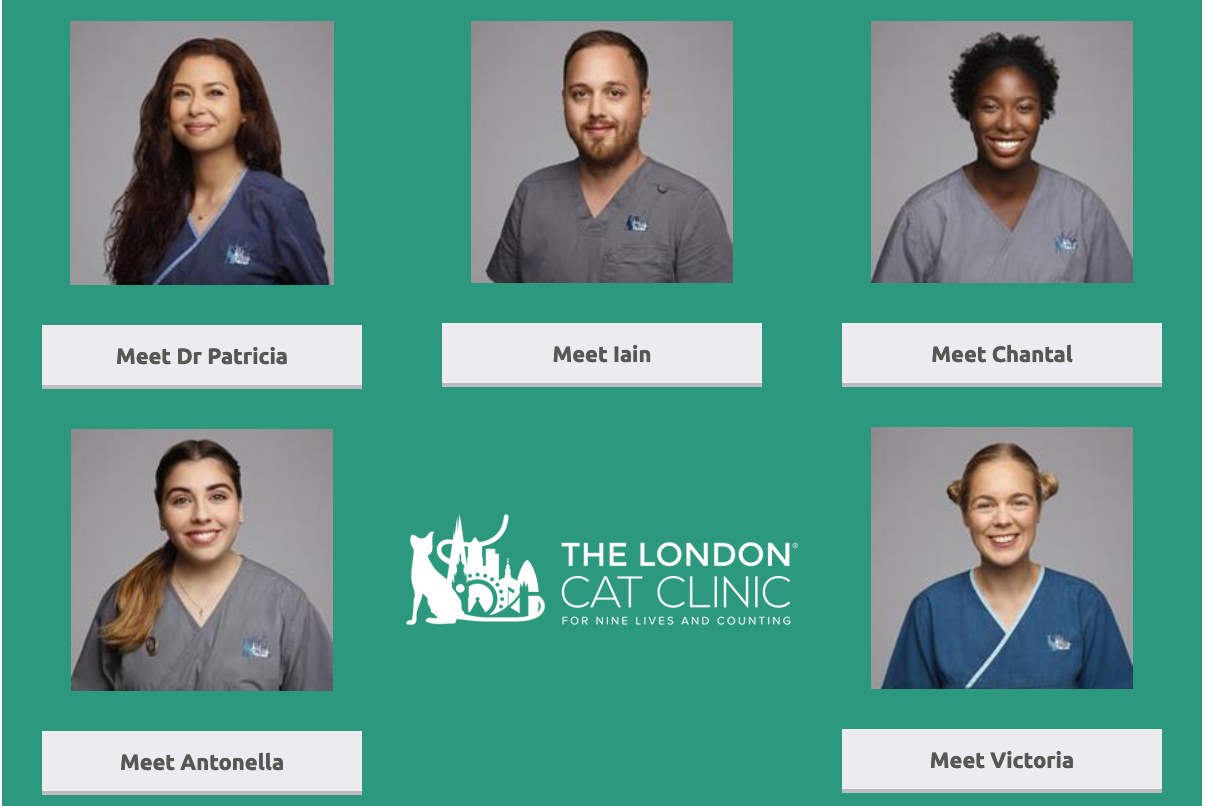 They join myself, Dr Luisa, Dr Serina, Dr Ursula, Dr Catarina, Alice, Maria, Laura, Sophie Rachel, Tara and Danielle in being The London Cat Clinic Team - Committed, Accountable, Trusted and Striving for excellence.
With warmest regards, a very Merry Christmas and a Happy, Healthy 2021
Dr Jeremy Campbell and The London Cat Clinic Team