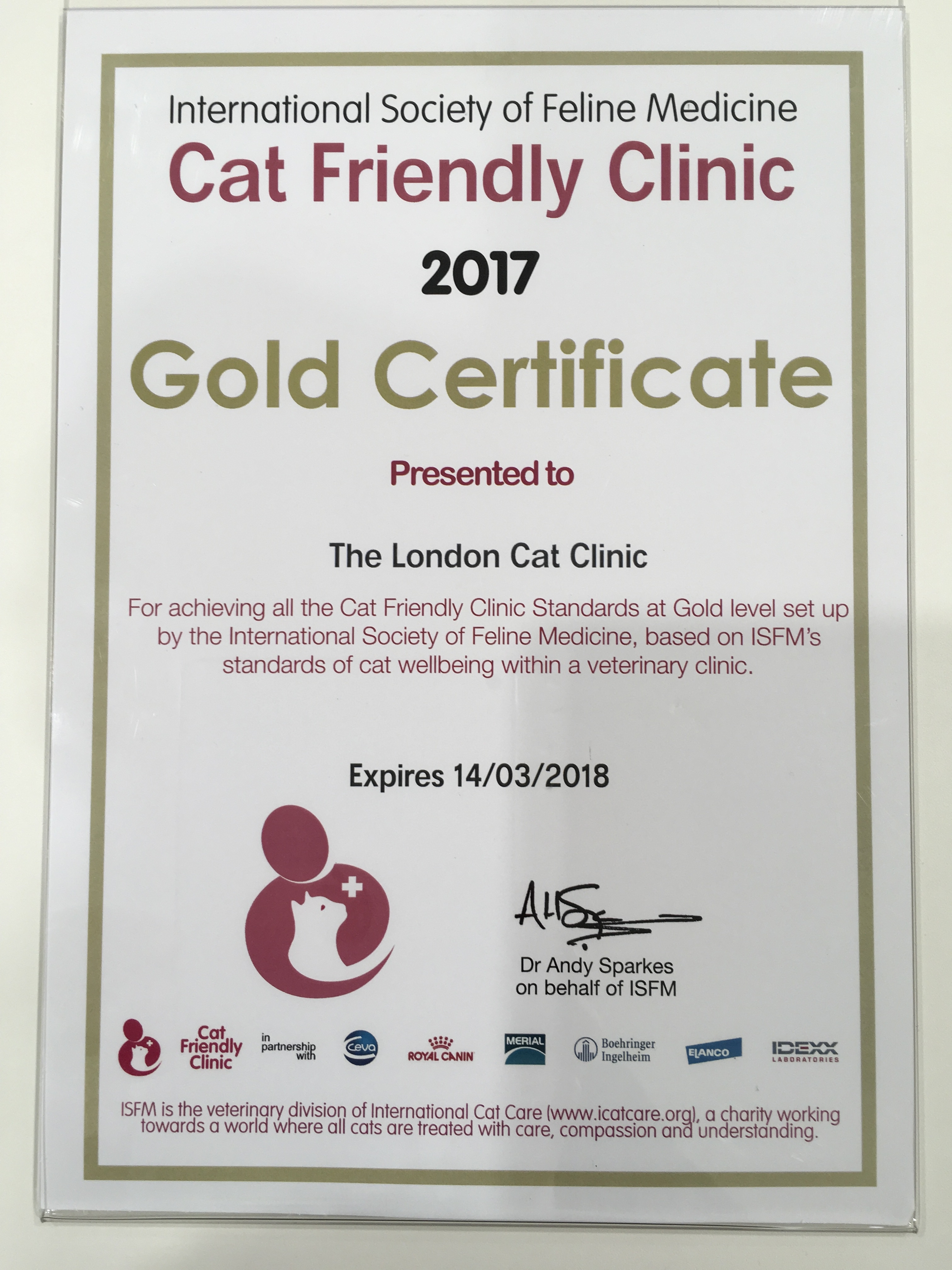 The London Cat Clinic was delighted and honoured to be awarded Gold Standard by the International Society of Feline Medicine's Cat Friendly Clinic programme within two weeks of our opening. A Gold Standard reflects the commitment of our staff to handle and treat cats with understanding, gentleness and respect, and to make every effort to make the visit to the clinic as stress- free as possible for you. It also reflects the availability of cutting-edge technology and cat-friendly features such as our "cat cubbies", tinted glass in our super-sized accommodations and off-the-ground perches in our bright, spacious reception area.
Dr Jeremy and the team were proud to show an international delegation of representatives from Boehringer Ingelheim, who are official partners of the ISFM Cat Friendly Clinic Programme, around our practice and highlight the "art of the possible" in building feline-focused facilities.
Dr Sandrine Lachérade from Boehringer commented "I just had the great opportunity to visit The London Cat Clinic, a Gold Standard Cat-Friendly practice, offering highest standard of excellence in care for cats with a fully committed veterinary team and the state-of-the art equipment and facilities. When I was a feline practitioner, I would have dreamed to work in a place such as this one!"
Her colleague Dagmar Polotzek said "Having recently visited The London Cat Clinic for the first time, I was overwhelmed by the incredible facilities and excellent standard of care offered by Dr Campbell and his team. Dr. Campbell made us feel very welcome and his passion for cat friendly veterinary care was truly inspiring. I hope to be back to visit again soon!"
Sebastien Marty added "I would like to thank you for your warm and friendly welcome in your clinic. This visit and your example will be definitively helpful for me to push the cat-friendly mindset a step forward in Japan."
Dr Sandrine concluded "We, as Boehringer Ingelheim employees, are very proud to be one the official sponsors of the Cat Friendly Clinic programme led by the ISFM."