Meet the brave and wonderful Alfie. He is 15 years young and has been an absolute trooper this year!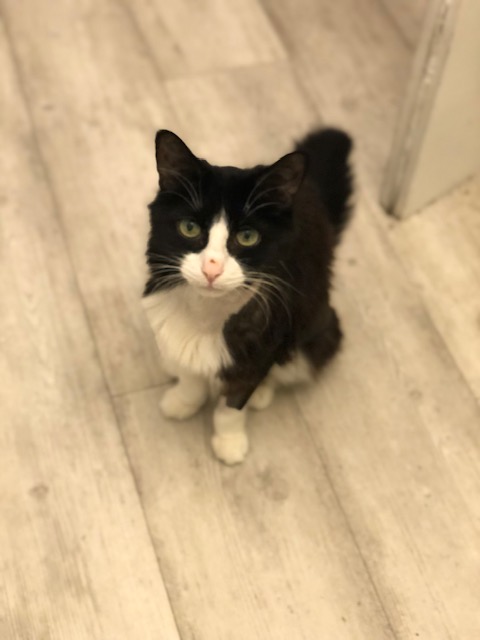 He came to us for a second opinion as after tests at his previous vets he was diagnosed with a mass in his abdomen.
He had lost a lot of weight, was not eating well at all, struggled to keep food down and had a lot of diarrhoea. He did not look well.
We first did a few blood tests to see how severe the situation was and how stable Alfie would be for further procedures at the same time he was prescribed medication to help fight nausea and make him eat again. Fortunately, he responded quite well to that treatment.
Alfie's blood results suggested severe gastrointestinal disease, so we repeated the ultrasound which showed significant changes in his intestinal wall, lymph node and liver. The decision was made to take Alfie to surgery to obtain biopsies of his intestinal wall, lymph nodes, liver and pancreas.
He spent some time in hospital with us as he took some time to recover from the procedure and needed a feeding tube placed to make sure he was still getting all the nutrients even when he did not want to eat. The feeding tube is placed into the oesophagus (connecting tube between the mouth and stomach) through a tiny incision in the neck. It only takes minutes for us to place and can save our critically ill patient's lives.
Alfie was a champion and he did really well improving day by day with excellent supportive care from his fantastic mother.
His biopsy results came back as high-grade lymphoma (an aggressive type of a cancer of the immune system) and after discussing all the options, Alfie's mum decided to take the chemotherapy route to fight it.
Unfortunately, due to his suppressed immune system, Alfie's feeding tube had become infected, so we needed to treat that before beginning his chemotherapy.
After a lot of appointments, Alfie's wound was healed, and he was able to start his chemotherapy.
Despite all of this happening when London started its lockdown, we are happy to report that Alfie is doing great! Keep up the fight Alfie, we are all so proud of you.