Jackie & Becs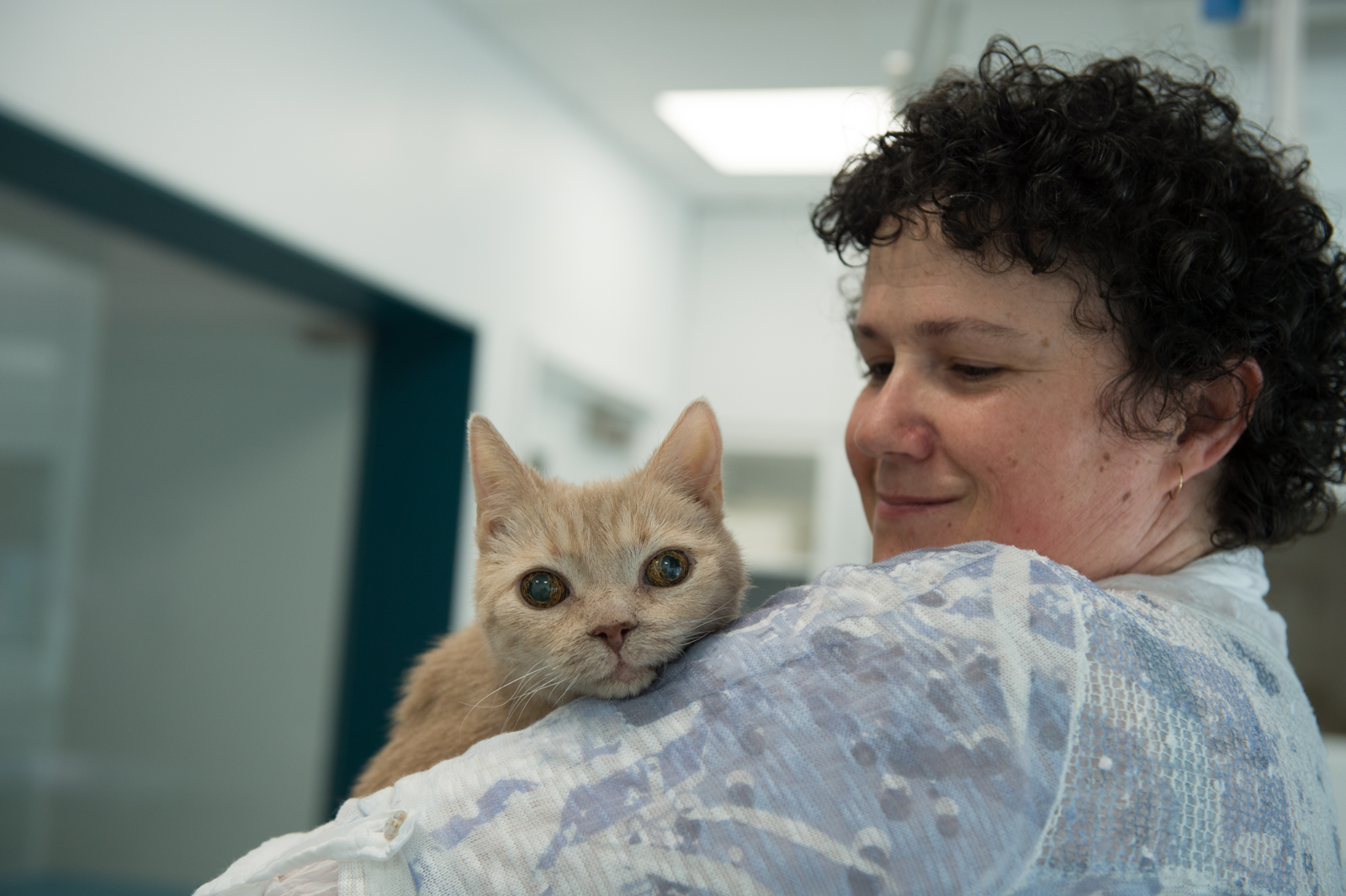 Jackie Liddell first met Jeremy Campbell when her cat was referred to him when he was working at her general veterinary practice. Her beloved cat Becs was very ill and needed a scan. Disabled and housebound for the majority of the time, Becs is Jackie's constant companion and it was a very worrying time. She remembers
"We first met Jeremy in October 2015 and I can honestly say if it wasn't for him Becs would not be here. We were referred from our general vet because Becs had lost so much weight and he was dangerously thin. Jeremy was so calm, immediately putting us both at ease, handling Becs so gently they struck up an instant rapport."
Becs was diagnosed with diabetes, pancreatitis and pancreatic abscessation and a thickened bowel. With such a complex diagnosis, Jackie says she would have been overwhelmed had it not been for Jeremy's helpful ideas and careful explanation of the treatments available. She continues
"Jeremy provides a complete holistic approach to the care he offers. He clearly sets out the treatment options and costs, as well as taking time to explain which foods will help recovery. This was very important for Becs. He also taught me how to administer insulin, give Becs' medication and carry out blood tests at home so I can manage his diabetes myself."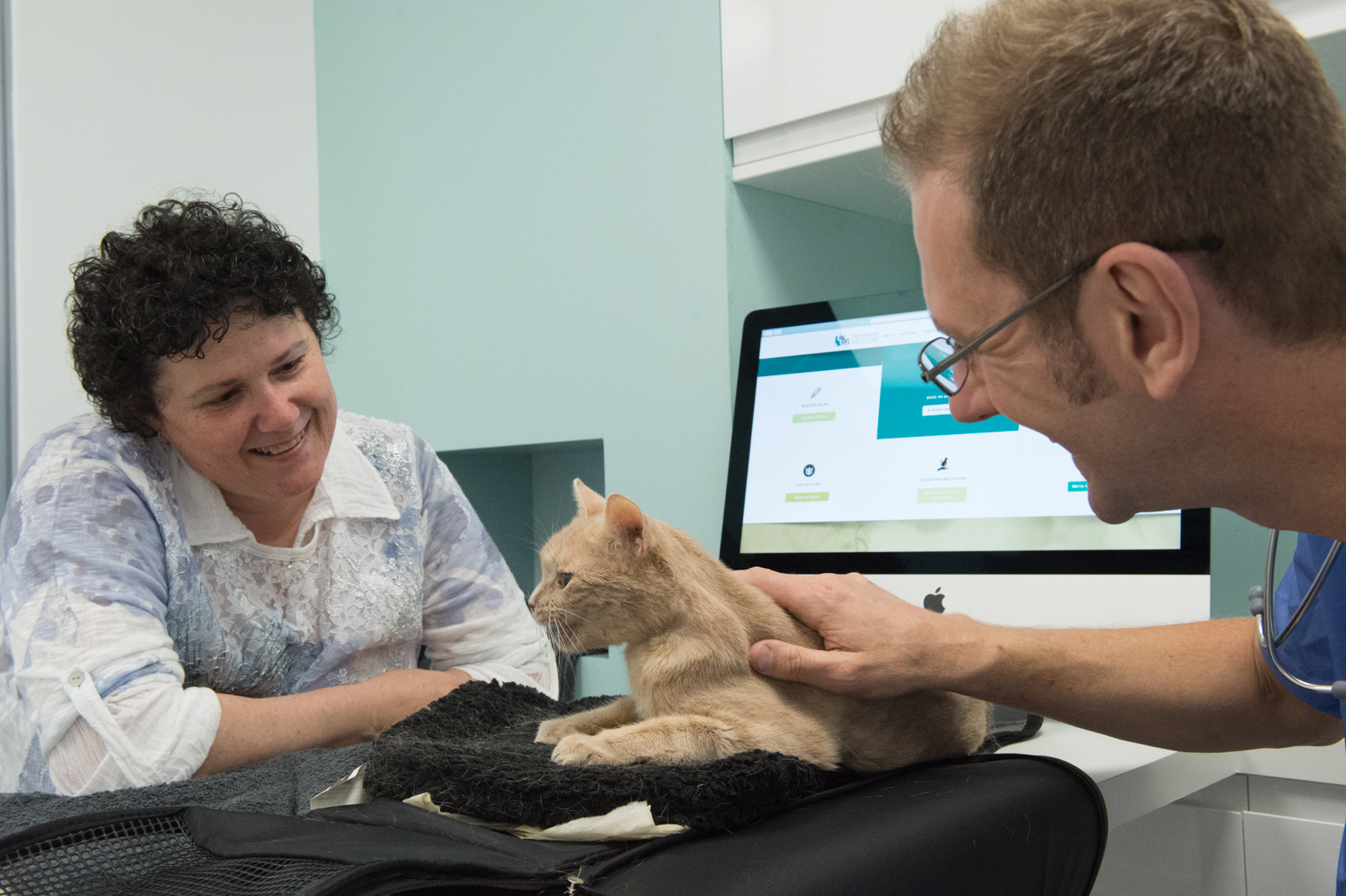 Now over a year on from his first treatment, Becs is happy and healthy and has doubled his weight. As a family they have been away to a pet friendly hotel in Cornwall, where Becs amused the other guests in the hotel bar! He positively enjoys his trips to see Jeremy, and Jackie laughs when she talks about how Becs sits on Jeremy's lap enjoying a cuddle during his consultations and has even been known to follow him around the practice.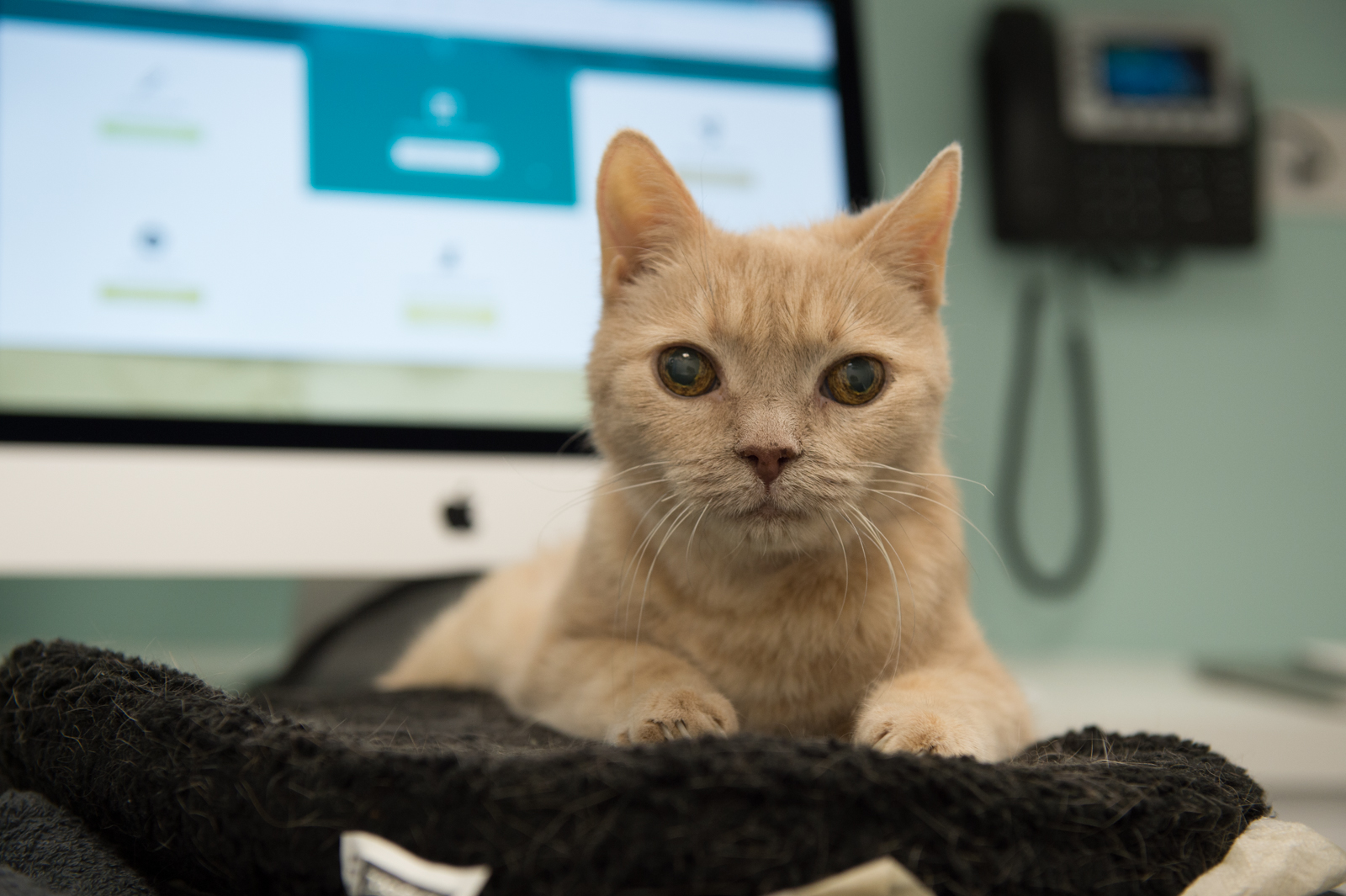 "He genuinely cares about his patients and is interested in their progress, emailing me to check on Becs. The aftercare we have received is second to none. Not only is he interested in how Becs is doing, he always takes to time to make sure I am coping with the treatment regime at home. I always feel supported and know that I can email Jeremy if I need him."
Jackie has joined The London Cat Clinic during our first week. She and Becs paid us a visit and are excited about the new facilities on offer.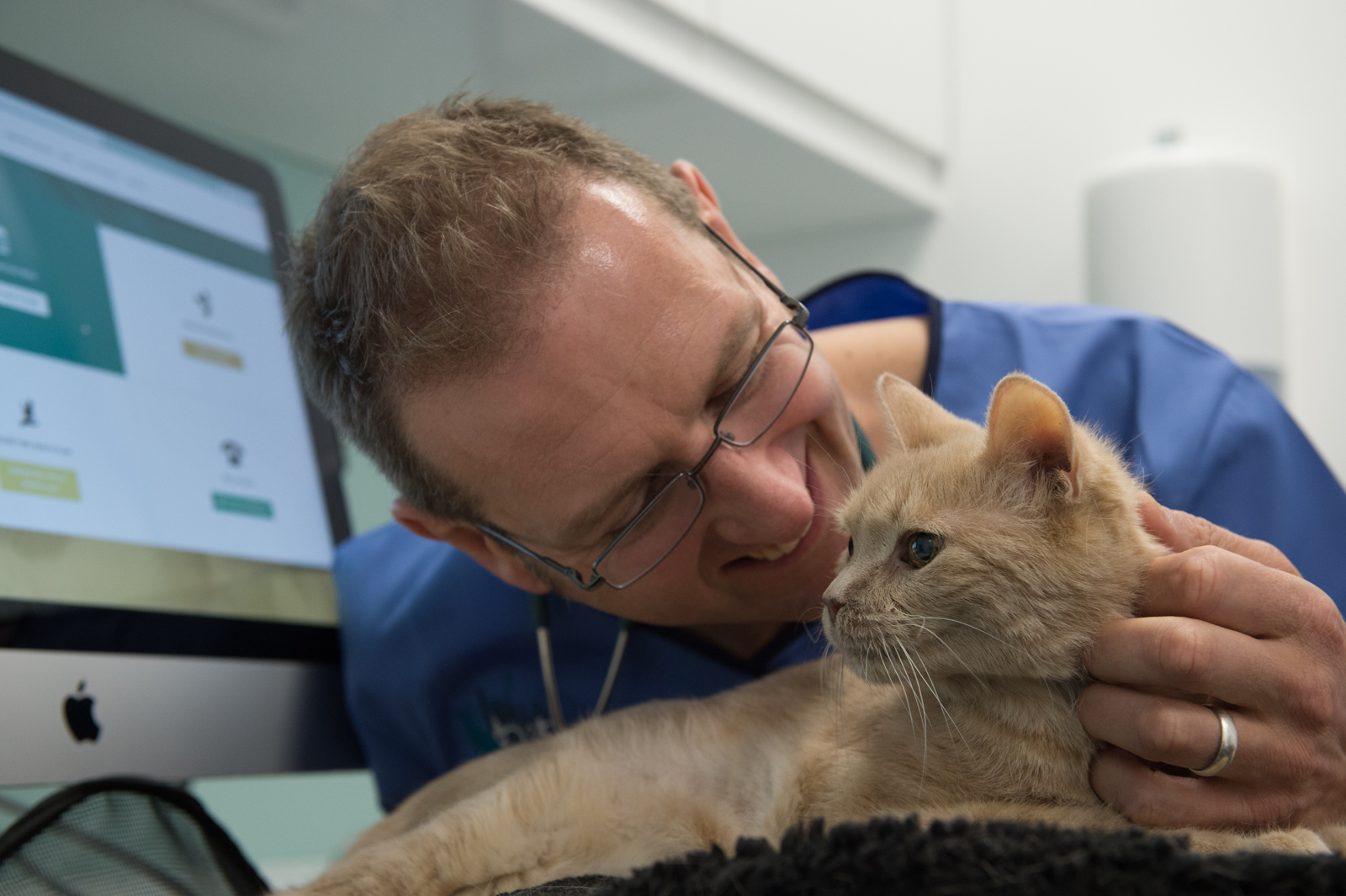 "I think a cat only clinic is a good idea. Focusing on one species means the vet will really understand the problems facing my cat and be able to give a detailed examination. They will also be on top of the latest medical developments so I can be confident I'm getting the best possible care. I know from when Becs was so ill how important it was that he was not stressed when he visited the vets. With The London Cat Clinic he won't smell any other animals that could upset him. The idea of being able to have the majority our treatment in one place without having to go elsewhere is also very appealing. I wholeheartedly recommend Jeremy, he really does have a special way with cats. Becs and I were amazed to see his new clinic."
Lisa & Norman
When Norman walked in to Lisa Burrow's life almost three years ago she knew instantly that he was special. He bonded immediately with Lisa and her family but it soon became obvious this brave stray had a host of health problems that meant Norman needed immediate medical attention and a kind touch. As a part feral street cat he didn't take kindly to being handled by vets. Lisa remembers taking him to the local surgery.
"Norman had severe stomach problems and cat flu as well as a number of other confusing symptoms which had our local vets scratching their heads. Very luckily, Jeremy Campbell was working there at the time and he took over Norman's care working through all his health issues individually to come up with the right treatment plan."
Unable to give Jeremy any of Norman's previous medical history, Lisa explains that it is his approach to treating the whole cat that makes such a difference.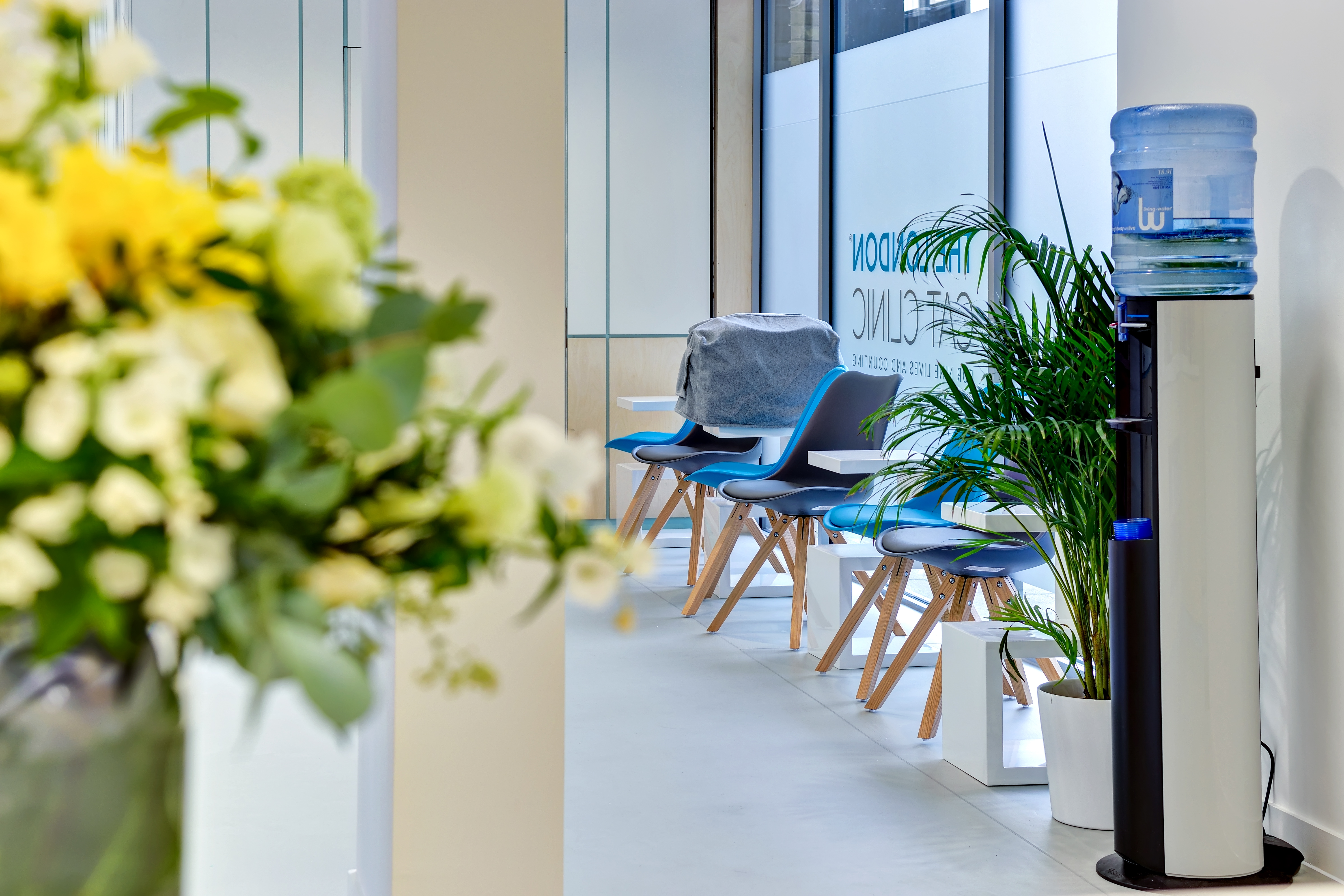 "From the very start Jeremy had an amazing affinity with Norman, making him feel at ease and taking the time to make sure he was relaxed before each examination. With so many symptoms to consider, it quickly became clear that Jeremy thinks differently from the other vets we have seen in the past. He draws on his experience from across his career, adapting treatments from other small animal species and thinking outside the box to come up with the best possible solution. He would then observe how each one worked, taking into account Norman's stress levels and diet before tweaking the treatment subtly as he began to recover."
Norman's condition stabilised for the next two years but then took a turn for the worse and he had to be hospitalised over a bank holiday weekend. Lisa was beside herself and couldn't understand what had gone wrong. Jeremy met Lisa at the hospital and explained that while the initial treatments had worked it was now time to try something different, he stayed in touch constantly liaising with the hospital and keeping Lisa calm.
"He understood exactly how important Norman is to us as a family and went above and beyond to make sure we were kept well informed."
Looking back on that time Lisa knows that she came very close to losing Norman, and it was down to Jeremy's calm intervention that there is a happy end to the story. "We trust him completely with Norman's care, he has been with us through some very dark times and there is no one else who understands Norman as well as Jeremy. We knew he was a very special vet when he took blood from Norman's jugular and our sometimes-feral street cat was still putty in his hands afterwards." Now thriving and healthy, Norman is an integral part of Lisa's family.
Lisa and Norman will be travelling to The London Cat Clinic when it opens. Lisa says
"The brilliant advantage of a cat-only clinic is the feeling that the vets you see are completely focused and on your wavelength. They know all the relevant drugs, are up to date on all the latest research and have one area of interest. Norman get stressed very easily and a cat only environment will be perfect for him. We are looking forward to continuing Norman's care under Jeremy's watchful eye."
Sian & Squid
Sian is the proud owner of two 17 year old rescue cats, Squid and Diabolo, whom she has raised from kittens. Both cats are very beloved members of the family.
She met Jeremy Campbell when Squid became deaf. "We initially took Squid into the vets because of her deafness, which is where she was examined by Jeremy. He was very thorough and told us that he was anxious about her thyroid. After arranging for thyroid checks, Squid was diagnosed with an overactive thyroid gland and Jeremy talked us through all the treatment options. We opted for surgery which Jeremy performed." Unfortunately, Squid's overactive thyroid gland was also present inaccessibly deep in her chest and Jeremy devised a daily treatment plan to manage this, showing Sian how to administer a lotion into Squid's ears at home. Sian continues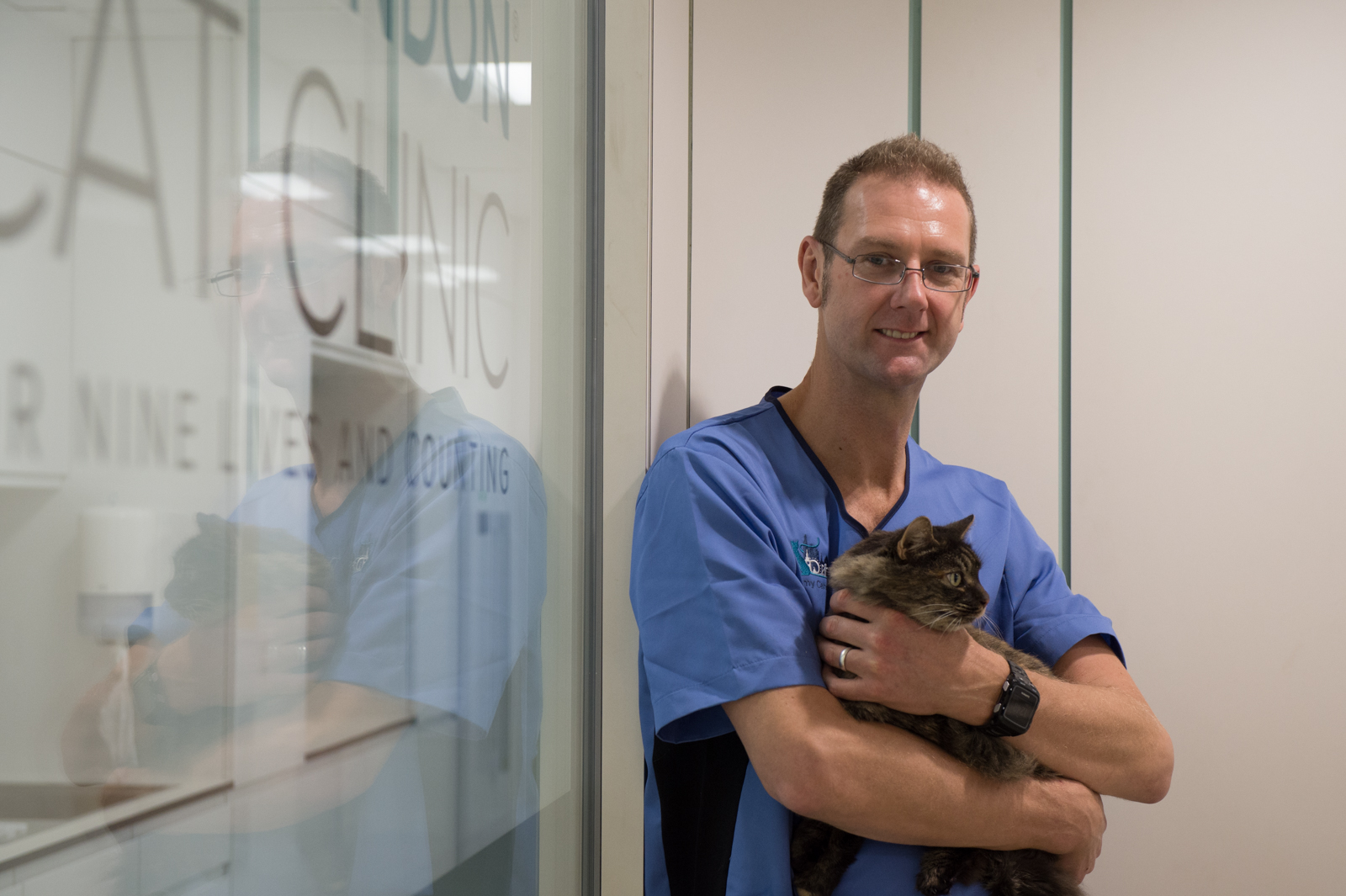 "I know that with two 17 year old cats they are both entering into a period of their lives where they will begin to have health problems. I'm very happy to know that I have Jeremy on hand to care for them as they enter this stage as I am confident that he wouldn't do anything to my cats that he wouldn't do his own. It is particularly important to me that he would never put them through any unnecessary procedures, and will always consider their quality of life when suggesting treatment. We could have handled Squid's thyroid problems in a number of different ways, and Jeremy explained each option to us in detail. We chose the daily treatment as the least traumatic option for Squid and for us as family."
Jeremy was careful and caring throughout and Sian explains that she felt huge confidence in him and that he genuinely cared for her cat. When discussing treatment options she mentions how he talked to her as an adult and she has great faith in him.
"When your cat suddenly becomes ill and you are emotionally vulnerable, trust is everything. In that situation, it is vital to know that you and your cat are being treated by the right person, I know I can absolutely trust Jeremy to put the wellbeing of my cat at the heart of every decision he makes."
Now over six months on from initial diagnosis, Squid's treatment is managed at home by Sian. Squid and Jeremy get together for him to monitor her blood levels to check they are stable.
Sian is looking forward to the opening of The London Cat Clinic.
"I think it is a fantastic idea, my cats are always a shrinking mess in vets waiting room when confronted by dogs and I will feel happier that when we visit they will be greeted by a reasonably calm environment. It is also comforting to know that all the equipment is geared towards the cat. The fact that Jeremy is opening this practice really demonstrates his commitment to cats, something that definitely comes across when he treats Squid and Diabolo."