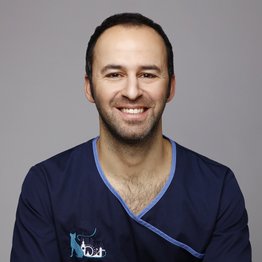 Dr Panayiotis Mavrikios
Veterinarian
DVM MRCVS MANZCVS (Feline Medicine)
I was born and brought up in Cyprus and after completing my military service I moved to Greece to pursue my studies in Veterinary Medicine. I graduated from Aristotle University in Thessaloniki in October 2006 and I then undertook a one- year internship in Small Animal Medicine at the above-mentioned university before moving to the UK in November 2007.
I have been a member of the Royal College of Veterinary Surgeons since November 2007 and in July 2013, after passing the Membership Examination in Medicine of Cats by the Australian and New Zealand College of Veterinary Scientists, I gained Membership Status in Feline Medicine. The above-mentioned examination has been adopted by the International Society of Feline Medicine as its official postgraduate examination for obtaining 'intermediate specialist level' in Feline Medicine.
I feel very lucky and privileged to be able to work in such a beautiful all- cats enviroment along with such a wonderful little team of vets, nurses and receptionists. The London Cat Clinic has taken Feline Care to another level and I can reassure you that your little loved ones are in very good hands!
My areas of special interest include Endocrinology, Haematology and Infectious Diseases. I also love geriatric medicine; a field of Feline Medicine that can be very challenging but also extremely rewarding. I enjoy teaching as much as I enjoy clinical practice and in 2014 I was a supporting tutor of the Distance Education Course in Feline Medicine (run by the Centre of Veterinary Education- The University of Sydney, in conjunction with the ISFM). I frequently travel to Cyprus and Greece where I often see second opinion cases (Feline Medicine) and I sometimes speak at veterinary conferences.
I have had cats all my life and I was very fortunate to know from a very young age what I wanted to be when I grew up! I own (or better say he owns me!) a handsome boy cat called Moofy who used to be a Norfolk stray and has been with me since February 2010.
My interests outside of work include the cinema, the ballet, poetry, dining, travelling and football. No shame to confess that I very much enjoy a lazy Sunday morning at home or a relaxing Saturday afternoon at the beach!