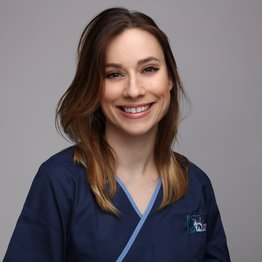 Dr Luisa Coelho
Veterinarian
MANZCVS (Feline Medicine) MRCVS ISFM Academy of Feline Practitioners
I grew up and qualified in Portugal, my beautiful country by the sea - where I still live today.
I have known I wanted to be a vet since I was 6 years old. I was lucky to grow up surrounded by animals and to have extremely tolerant parents who welcomed the strays and rescues I inevitably brought home - I soon found out my mother was nothing short of a cat lover herself!
Because I always held a particular fascination for felines, I soon felt restless in general practice and was very happy to be given the opportunity to work in Portugal's first ever feline-only hospital.
After a few years, the motivation to learn more and provide the highest standard of care brought me to the UK, where I decided to work part-time while studying to obtain my membership of the Australian and New Zealand College of Veterinary Scientists in Medicine of Cats, ISFMs recognized post-graduate certificate in feline medicine.
As a crazy cat vet I could not miss the opportunity to visit the amazing London Cat Clinic's state-of-the-art facilities and luckily I was at the right place at the right time - Dr Jeremy was looking for another feline vet!
I have been a part of TLCCs team for nearly a year and there's nowhere else I'd rather be. The team is truly committed to providing the highest level of care to our feline patients and we look after your fur babies as if they were our own.
Although I have no plans to move to the UK, I gladly commute to TLCC via plane every other week just so I can pursue my dream job at our dream clinic and I wouldn't have it any other way - that's how unique this place and it's team are!
When I'm at home, by the sea and near the beautiful town of Sintra nestled in the mountains I love to hike or cycle in the countryside.
I'm fascinated by all aspects of feline medicine but geriatric medicine, ultrasonography, emergency and critical care and infectious disease management are my main areas of interest.